E-Sword
Here is a Bible Study step you want to learn:
I use a free Bible Study program called E-Sword. With this free program, you can add a number of free Bibles. One you have to download is called the KJV+. This is the version containing Strong's numbers and works with the Strong Concordance, a very important Bible Study tool containing Hebrew and Greek dictionaries. In this example, I looked up the word Herod in the KVJ+, looked at the Strong's number to find it was the name of four kings in Jerusalem. One of the Bibles you may want to buy is the NLTse (New Living Translation, second edition).
E-Sword is a free Bible program you can download online. It is designed to work on a Windows operating system with an option for an Apple operating system download. I've been able to convert the Windows edition to work on a Linux system with the use of a few programs. One of them is called Wine. The other that works much better is PlayonLinux. There are many fine articles on the Internet where Linux users can learn how to download and use E-Sword.
E-Sword has dozens of free Bible downloads in many different languages. E-Sword also has a number of premium Bible versions you can pay a small fee for. E-Sword has a number of commentaries, pictures, and other useful features you can download.
The basic E-Sword download comes with the King James version, the King James plus version with Strongs numbers, and the Strongs Hebrew and Greek dictionaries. E-Sword has search features, editing windows you can add your own studies and comments, a feature that allows you to create your own chain links, and many other features found only on state of the art Bible programs. Keep in mind, E-Sword is a free Bible program.
E-Sword has a windows feature you can customize. You can increase or decrease the size of the Bible window, the Commentary window, and the Editor window. Off the shelf E-Sword comes with a Dictionary window showing Strongs Hebrew and Greek information. The KJV+ Bible version has the Strongs numbers along side the words. The Dictionary Window can be unpinned or closed and slides over to the left as a pull-out. The Dictionary window will pop back up when you click on a Strongs number, or you can click on the Dictionary slide out to view the Hebrew and Greek definitions of words in the Bible.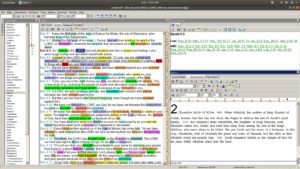 One if the main features E-Sword has to offer is its search feature. You can search different Bibles. You can search sections of Bibles. You can search with options such as words and phrases. The search results reveal a list of verses. You can click on any verse link and move quickly to the Bible verse in the Bible window.
You can copy and paste Bible verses with a number of choices directly into the live editor or your word processor. Which makes writing your own studies a breeze. E-Sword is designed to save time.
E-Sword has a column on the left showing Bible books and chapters. You can quickly move from one book of the Bible to another. E-Sword also has a feature allowing you to highlight verses or words in the Bible. The default highlight window comes with six color choices. There are another 48 standard color choices. You can also customize colors and save another sixteen custom colors. This feature is great for highlighting key words.
The Edit window comes with three options. The first is a sort of diary by date study notes option. I use that option to gather a number of texts to copy and paste into a word processor. Next is Study Notes window. Study Notes can link one verse to another. This feature allows people to make their own custom Bible chain reference. You can also paste verses into that window. Of course you can type in your own notes. The third window is for Topic Notes. You can name your own topics and add scripture and notes to that section. This allows you to keep track of your personal studies by topic.
What more could you ask for in a Bible program? E-Sword has more features than the Bible programs I paid for. E-Sword is regularly updated. Each update contains all the basic features with a few upgrades.
E-Sword has a section on their website asking for donations. You would be wise to thank Rick Meyers for his work and dedication. This world has few people with the attitude and dedication Rick has.
In addition to the E-Sword website, other Websites offer modules you can download and use. Search the Internet for those sites. You will be amazed at how many people are involved in adding useful features to E-Sword. Special programs are required to add other books, commentaries, and other features to E-Sword. The choices are almost limitless. I don't think there is another Bible program with so many people involved. Just think of it. When we talk about the Bible we often run into control freaks wanting everything in line with their beliefs. Rick Meyers has created a program that allows people to add whatever they want. That is unusual in this day and age.
Give E-Sword a try. There is a short learning curve, but the Internet is fulled with helpful articles explaining every feature of E-Sword. The more you use E-Sword the more you will appreciate the features it contains. I've only mentioned a few here.