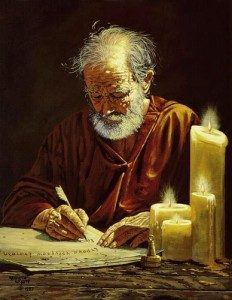 Chapter 12 Romans 8:9-39
Romans 8:9-17 MKJV But you are not in the flesh, but in the Spirit, if the Spirit of God dwells in you. But if anyone has not the Spirit of Christ, he is none of His. (10) And if Christ is in you, indeed the body is dead because of sin, but the Spirit is life because of righteousness. (11) But if the Spirit of the One who raised up Jesus from the dead dwells in you, the One who raised up Christ from the dead shall also make your mortal bodies alive by His Spirit who dwells in you. (12) Therefore, brothers, we are not debtors to the flesh, to live according to the flesh. (13) For if you live according to the flesh, you shall die. But if you through the Spirit mortify the deeds of the body, you shall live. (14) For as many as are led by the Spirit of God, they are the sons of God. (15) For you have not received the spirit of bondage again to fear, but you have received the Spirit of adoption by which we cry, Abba, Father! (16) The Spirit Himself bears witness with our spirit that we are the children of God. (17) And if we are children, then we are heirs; heirs of God and joint-heirs with Christ; so that if we suffer with Him, we may also be glorified together.
Paul leaves the Romans with a choice. They can either choose to have Christ in them, or leave Him behind. That seems like a rather simple choice. But what does it mean? We have to look back to the previous chapter to see how Paul led into this choice.
There is therefore now no condemnation to those who are in Christ Jesus, who walk not according to the flesh but according to the Spirit. But the Law of the Spirit of life in Christ Jesus has made me free from the law of sin and death. (Romans 8:1-2 MKJV).
Paul's main theme concentrates on finding and following Jesus' Spirit. There is a general rule of Bible Study that tells us, the introduction to a chapter tells us the main theme in that chapter. That's the way the Bible was broken into chapters. That rule is true from one end of the Bible to the other. We also notice, this section of Romans begins with the word, "but." But what? To answer that question, we have to look back at the previous verses. There is no other way to answer that question. If we try to answer that question based on our own knowledge, we are bound to miss important details Paul recorded. If we try to answer that question based on personal experiences, thoughts, ideas, doctrines, or a story we heard, there is no way of knowing what kind of tangent we can go off on.
The word, "but," established a choice, or a comparison. To find out the choice, or what Paul is comparing, we have no other choice than to read what Paul wrote. We also notice, Paul began chapter 8 with the word, "therefore." That word also established a link to the previous chapter. In simple terms, Paul is telling the Romans, they cannot understand this part of the letter until they understand the previous part of the letter. But do people read or study Paul's letter as a whole? Most times people take out a sentence or two from Paul's letters, then proceed to explain what Paul is talking about. When people do that, are they certain the people they are talking to understand the previous part of Paul's letter? How does the speaker or teacher know what their students know, and what they don't know? There is not doubt Paul's letters were inspired. Each letter was written to a particular group with particular needs. Each group was on a particular spiritual level, and each group needed to move from a particular earthly rut. Paul had the Spirit to guide him. That's what makes his letters inspired. Here in Romans Paul is trying to explain that connection with the Spirit.
Paul makes it clear, he does not have a monopoly on Jesus, or His Spirit. Paul wrote about how Jesus forgives sins, and has covered our sins. There is a little effort involved when we ask to be forgiven. We are supposed to move forward, not get stuck in the same rut we grew up in, but move away from sin, and the dangers sin comes with. The fact of the matter is, we can't change on our own. We don't stand a chance against the devil and his temptations. We need help. Jesus was the only one able to defeat the devil, and now He is offering His knowledge, experience, and power through the Holy Spirit to guide us on our journey.
Paul boiled it down to a choice between life and death. It is that simple. Being personally lead by the Spirit of God is a prerequisite to being one of God's sons. That requires a bit of proof. We have to see a change. That change leads to witnessing. Which is the first step to bringing more people into God's family.
Saved by Hope
Romans 8:18-25 MKJV For I reckon that the sufferings of this present time are not worthy to be compared with the coming glory to be revealed in us. (19) For the earnest expectation of the creation waits for the manifestation of the sons of God. (20) For the creation was not willingly subjected to vanity, but because of Him who subjected it on hope (21) that the creation itself also shall be delivered from the bondage of corruption into the glorious liberty of the children of God. (22) And we know that the whole creation groans and travails in pain together until now. (23) And not only so, but ourselves also, who have the firstfruit of the Spirit, even we ourselves groan within ourselves, awaiting adoption, the redemption of our body. (24) For we are saved by hope. But hope that is seen is not hope; for what anyone sees, why does he also hope for it? (25) But if we hope for that which we do not see, then we wait for it with patience.
The subject of hope seems to confuse people. Paul terms hope as something that is unseen. What is unseen? What is Paul referring to? We have no idea what Paul is telling us that we cannot see until we look back in this chapter. What is unseen in the previous verse? The Spirit. Can we see the Spirit Paul is referring to? Not in the physical sense, but we can feel the Spirit work in the spiritual sense.
Overall, Paul is comparing the physical world familiar to the Romans, to the Spiritual world Paul is introducing. This was a new concept in Paul's day, and to a large degree, unfamiliar to many Christians. The subjects of faith and hope to a large degree have been reduced to simple, one line definitions. Those definitions have become clichés, with no depth. The use of clichés has taken away the personal experience Paul wrote about.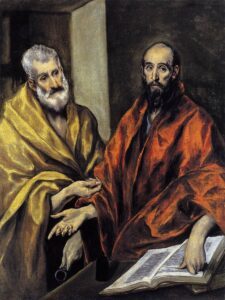 It is rather strange to research the word hope and find it is a subjet the Jews should have been familiar with. We find hope discussed in a number of David's Psalms. "I have set the LORD always before me: because he is at my right hand, I shall not be moved. Therefore my heart is glad, and my glory rejoiceth: my flesh also shall rest in hope. For thou wilt not leave my soul in hell; neither wilt thou suffer thine Holy One to see corruption. Thou wilt shew me the path of life: in thy presence is fulness of joy; at thy right hand there are pleasures for evermore." (Psalms 16:8-11 KJV).
David wrote about the same subject Paul seems to be introducing to the Romans. How could such a simple subject seem so difficult to explain? Hope is a private place David went to whenever the world seemed too much to deal with. David also tied the word hope to the choice between life and death. In this case, the choice between hell and life. This should not have been a new concept to the Jews, and hope should be something Christians should be able to explain. It may help to look at the definition of hope in the Hebrew dictionary.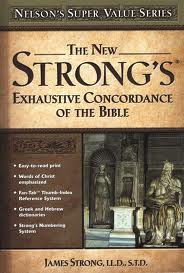 HOPE
H983 בֶּטַח beṭach beh'-takh
From H982; properly a place of refuge; abstractly safety, both the fact (security) and the feeling (trust); often (adverbially with or without preposition) safely: – assurance, boldly, (without) care (-less), confidence, hope, safe (-ly, -ty), secure, surely.
H982 בָּטַח bâṭach baw-takh'
A primitive root; properly to hie for refuge (but not so precipitately as H2620); figuratively to trust, be confident or sure: – be bold (confident, secure, sure), careless (one, woman), put confidence, (make to) hope, (put, make to) trust.
David used the word hope to describe the refuge, a place of safety he found in God. Do we use the same definition for hope today? Hope means different things to different people. Some hope for fame, glory, money, winning the lottery, a new car, a house, and countless other things in this world. Can they be seen? In some cases, they can be viewed, and still hoped for. How do Christians define hope in God? In most cases they have the part about not being able to see God in the proper perspective. What about the promises and safety David wrote about? How does the definition of hope David wrote about align with the Greek definition of hope?
HOPE
G1680 ἐλπίς elpis el-pece'
Fromἔλπω elpō which is a primary word (to anticipate, usually with pleasure); expectation (abstract or concrete) or confidence: – faith, hope.
Some how the word hope was changed from a refuge in the Old Testament to an expectation in the New Testament. How did that happen? Are the two related. Often times we can get a clearer definition of a word when we look at how the author used that word in a sentence, or explanation. There is no doubt, David's hope was in the refuge God provided for him. When Paul wrote about hope the Romans should have been looking for, he defined it as, "the glorious liberty of the children of God," and , "the redemption of our body." Paul placed hope in this world, in the unseen adoption into God's family, and the redemption provided through Jesus. In other words, the hope in the New Testament is not that far from the refuge David looked forward to.
Paul wrote about a transformation from the old world of sin into the new world of hope established by Christ. That was the concept Paul was writing about, and he wanted the Romans to learn about. When we look at the beginning of this chapter, we see how that unseen hope is revealed, and explained by the Spirit. It all works together. What is unseen by us is clear from Heavens view. The refuge David wrote about is Heaven. Protection from this world is provided by God and His angels in Heaven. Redemption comes from Heaven. Everything originates in Heaven, and we have no hope of seeing, or understanding any of those concepts without a direct connection with Heaven.
The Spirit Intercedes
Romans 8:26-31 MKJV Likewise the Spirit also helps our infirmities. For we do not know what we should pray for as we ought, but the Spirit Himself makes intercession for us with groanings which cannot be uttered. (27) And He searching the hearts knows what is the mind of the Spirit, because He makes intercession for the saints according to the will of God. (28) And we know that all things work together for good to those who love God, to those who are called according to His purpose. (29) For whom He foreknew, He also predestinated to be conformed to the image of His Son, for Him to be the First-born among many brothers. (30) But whom He predestinated, these He also called; and whom He called, those He also justified. And whom He justified, these He also glorified. (31) What then shall we say to these things? If God is for us, who can be against us?
It seems Paul knew the Romans had trouble praying. Don't we all? Paul told the Romans about a solution to that problem. When we pray, our prayers are taken by the Holy Spirit, interpreted, or translated before being delivered to God. Why would God do that? It seems we are supposed to be developing a personal relationship with God. How are we supposed to do that when we have access only through the Holy Spirit? Why does it work that way? I'm not sure why it works that way. How can we be sure how prayer works, when prayer is one of those unseen entities of God where hope leads us. Paul may be trying to over emphasize the point, we are not going anywhere with the Spirit. If we want to talk to God, we need the Spirit. When we want relief from this world, we need the Spirit. If we want the eternal life Paul wrote about, we need the Spirit. When we look at the process the way Paul recorded it, it does seem rather simple. There are steps we need to take, and things we need to learn to enter into any kind of understanding of that unseen spiritual world and life.
It seems, God is the one calling His children. Of course Jesus plays a part in that call, and so does the Spirit. How they work together is somewhat of a mystery. But let's face it, they are not of this world, and living an eternal life in this world may be a bit more than people could handle. On the other hand, when we talk about an eternity in Heaven, we should have some idea on what will be different.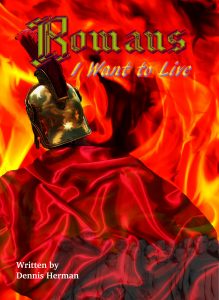 Who Shall Separate Us
Romans 8:32-39 MKJV Truly He who did not spare His own Son, but delivered Him up for us all, how shall He not with Him also freely give us all things? (33) Who shall lay anything to the charge of God's elect? It is God who justifies. (34) Who is he condemning? It is Christ who has died, but rather also who is raised, who is also at the right hand of God, who also intercedes for us. (35) Who shall separate us from the love of Christ? Shall tribulation, or distress, or persecution, or famine, or nakedness, or peril, or sword? (36) As it is written, "For Your sake we are killed all the day long. We are counted as sheep of slaughter." (37) But in all these things we more than conquer through Him who loved us. (38) For I am persuaded that neither death, nor life, nor angels, nor principalities, nor powers, nor things present, nor things to come, (39) nor height, nor depth, nor any other creature, shall be able to separate us from the love of God which is in Christ Jesus our Lord.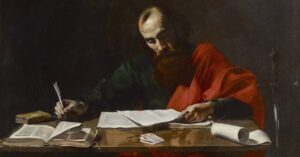 Romans chapter 8 may contain some of the most famous verses in the New Testament. "If God is for us, who can be against us?" This may be one of the most used, verses in Christian circles. But let's be blunt. This may be one of the most profitable verses from the Bible. It is found on stickers, carvings, jewelry, charms, and other marketable products. Now think about this a moment. Paul is encouraging a personal vision of Heaven. What do people do? They take a few verses out of Paul's letter, and hit the general public with it over and over again, until it becomes a part of who they are. People like to identify with God's power. But what does that one line teach us about what Paul has been teaching? "If God is for us, who can be against us?" What does that teach us about the Holy Spirit, Jesus' sacrifice, prayer, or the safe place David wrote about, referring to that place as hope? What does one sentence taken from one of the most important chapters Paul penned do for us? Like praying for money and other favors, the true message is lost when we get sucked up into this world.
Another famous saying from Romans chapter 8 is, "I am persuaded that neither death, nor life, nor angels, nor principalities, nor powers, nor things present, nor things to come, nor height, nor depth, nor any other creature, shall be able to separate us from the love of God which is in Christ Jesus our Lord." This is another phrase that has been coined all over the globe. People like to quote it. Retailers love to spread it over every type of article. But what is that phrase telling us? For one thing, it is the last sentence in the chapter. That sentence sums up the entire chapter. What do we get when we compare the last few verses in this chapter to the first few?
There is therefore now no condemnation to those who are in Christ Jesus, who walk not according to the flesh but according to the Spirit. But the Law of the Spirit of life in Christ Jesus has made me free from the law of sin and death. (Romans 8:1-2 MKJV).
Of course we see the same theme. We see how to understand the main theme Paul was writing about in this portion of his letter. With Christ, we have power, the Spirit, eternal life, redemption, and the only thing we are going to be separated from is sin and death. As we draw closer to Christ, we leave parts of this world behind. We are changed. Some to one degree, and some people to a variety of degrees.
Paul again brings up the point that Jesus had to die to continue His ministry. That is a lot coming from a man who spent time persecuting Jesus' followers and dong his best to put an end to the new movement sweeping the world. We have to stop and think about how Paul was changed. His change shows only a glimpse of God's love, and what Jesus' sacrifice was for.
When looking for references to explain what a Bible writer is talking about, there is no better reference than the Bible text the writer recorded. If anything else, we all should adopt the rule telling us, when an inspired writer quotes scripture, look it up.
Our heart is not turned back, nor have our steps turned aside from Your way, though You have crushed us in the place of jackals and covered us with the shadow of death. If we have forgotten the name of our God, or stretched out our hands to a strange god, shall not God search this out? For He knows the secrets of the heart. Yea, for Your sake we are put to death all the day long; we are counted as sheep for the slaughter. Awaken! Why do You sleep, O Jehovah? Arise! Do not cast us off forever. Why do You hide Your face, and forget our affliction and distress? For our soul is bowed down to the dust; our belly holds fast to the earth. Arise for our help, and redeem us for the sake of Your mercy. (Psalms 44:18-26 MKJV).
The first thing we should do is look for connections, words the author weaved into the letter he wrote. In this case we see the words death and search. In his own words, Paul pointed out the penalty of death, its results, and how we can avoid that penalty. Paul also explained God's power to know our thoughts. Paul described it as a searching of the heart. God knows what is on the inside, and how to deal with it.
David pointed out how we are stuck in this world. Aren't we all? We look at the physical things of this world and try to explain what God and Heaven are like. We forget that God knows each of us better than we know ourselves, and He knows how to fix the things that aren't right. We don't even have the ability to talk to God about the things we want, or want to learn. We need the Spirit to interpret our needs and desires. We could go on forever about what we don't know. Or we could fool ourselves into thinking the explanations we've been offered are enough. Has anyone ever known enough about God to explain infinity, eternity, the vastness of Heaven, where it is located, when the devil was restricted to this world, or what his real motives are? Many of us are satisfied with thinking the devil has one plan to deceive the world. That says little about what is really happening. That one deception belief discredits much of what Paul and David wrote about when they told us, God is here to help us. We have to know the Spirit to find out what is wrong with us. In other words, to see the deceptions we've already fallen for. Or better yet, what deceptions the devil is placing in our paths. Paul knew how the Jews in Rome spent more time examining mistakes the rest of the world was making, and not paying attention to the mistakes they make everyday. That included a long list of sins they failed to mention in prayer. No wonder why we need the Spirit to intercede for us in our prayers. We have no focus on what the devil is working on for later today, or tomorrow. Angels can see the devil and his agents working in the back ground. We can't. We think we can make it through the day. We think we can work through our problems. We think we have the answers. We think we have control over our lives. But have you ever considered the fact, when Paul refers to being slaves to sin, there is much more than our own sins that control us in this world. Satan forces people to lay traps in our paths. We become slaves to the sins others commit to make living more difficult. We are slaves to thieves, fear, taxes, over pricing, profiteering, scams, and so many other sins. We may not commit those sins, but we are still slaves to those sins when they steal our time, money, mislead family members, we are forced on worry, and forced to carry burdens against our will. It is sad to think, angels are all around us to help, but we have no idea how to accept their help.