John 15:22-27 MKJV If I had not come and spoken to them, they would not have had sin; but now they have no excuse for their sin. (23) He who hates Me hates My Father also. (24) If I had not done among them the works which no other did, they would not have had sin. But now they have both seen and hated Me and My Father. (25) But that the Word might be fulfilled that is written in their Law, "They hated Me without a cause." (26) And when the Comforter has come, whom I will send to you from the Father, the Spirit of truth who proceeds from the Father, He shall testify of Me. (27) And you also shall bear witness, because you have been with Me from the beginning.
When we look back at previous chapters, we see how Jesus' family tried to direct His ministry. We see how people ate bread He blessed, doubted Him, then turned away. People He grew up with doubted Him. And many factions of the religious leaders tried to arrest and kill Him. His ministry wasn't easy. Jesus was attacked on may sides. The enemy was always plotting ways to trip Him up, delay, and eliminate Jesus.
The enemy has the same plans for us. We'll always have people turning away, questioning what we've learned, opposing what we teach, and trying to redirect us. In business the enemy will always try to remain at least one step ahead of us, using any means at his command to waste time, starve us, steal business, and generally make life impossible. Jesus knew all those details before we saw them coming. That's why He encouraged His disciples and us. That's why He reminds us of what He had to go through.
The world at large is an evil place. The enemy knows how to manipulate people in our paths, in business, our social life, family, and spiritually. I lost count of the opportunities I've seen fall apart in business. I have no idea how many spiritual situations have been altered by the enemy. I do know, not many people know how to connect with God on a spiritual level. When people learn how to connect with God, the world looks at them as if they are strange. That's when God sends in the reinforcements. You'll meet new friends who've had similar experiences with God. You suddenly see a new world open up and your vision of Heaven is clear. You know when God gives you a message and have no problem knowing who the right person is.
At first your a messenger, which is sort of a prophet. You take a message, deliver it, and move on. The role is simple. If you prove yourself worthy and reliable, you move onto higher levels. Next is a teacher. You learn the process so well as being able to explain it to others. God puts people in your life who know communication with God is possible, it is supposed to be an everyday way of life. They may have heard God's voice or seen visions. They may have felt His warmth, or been close enough to hear His heart beat, but they aren't sure how to get back there. They are like the disciples who told Jesus they don't know the way. A teacher can tell them the way to God's throne.
Everyone has their own way of meeting with Jesus. Some pray all day. Some pray in the morning, others in the evening. When it's really time to listen to God's voice, they get away from the world. When they are alone, they concentrate on a single subject and let God speak.
People have their own way or path to approach God's throne. God's mountain has many paths. You want to pray, confess your sins, ask forgiveness, ask to be cleansed by Jesus' blood, and ask to sit at God's throne to listen and learn from the Infinite source of wisdom. Suddenly the Heavens open up., Scripture links itself to scripture like you've never seen before. You see Jesus' life in ministry in a new light and wonder why no one ever saw those simple details before. After a while you begin to see how your life fits into God's plan of salvation. You hear assignments. Then, when something is important, you see the condition of the world and a list of scripture describing its course and place in prophetic history.
The branch of prophecy is trimmed from the vine. You no longer care about prophecy or follow the course the world is traveling. Prophecy is now something you trust to God. You know Him well enough to see, if something important is going to happen, God will let you know, and will verify it.
God uses the same sources to verify messages and events. At first you don't trust God's messages. Don't worry, God is patient and He's seen it a million times. He already has His plan in place to verify the message. If we paid attention to the story or Jesus going to Jerusalem, we would have noticed the process. Jesus' brothers told Jesus to go to Jerusalem, and Jesus told them it wasn't time. Later that week, Jesus received marching orders from God and went to Jerusalem. Notice how the message came from God. Jesus didn't need His message verified. His communication channel to God was wide open and functioning properly. With us it's a little different. But we should keep in mind, God always comes to us before He sends verification.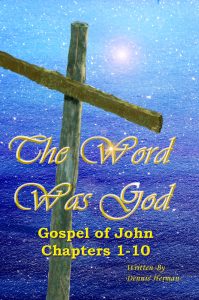 We have a tendency to question or doubt God. That's when He puts His plan into action. God will verify the message He gives you through people who serve Him. Also through His Word. Some times it may be verified through a vision or dream. And it may be verified by events in or related to your life. Did that ever happen to you? Something happened and you had that feeling, you knew it was going to happen?
Some people think they are teachers but they don't know the process. I've talked to a number of people over the past weeks who feel they have a message and as they say, are not afraid to share it. They usually pick a topic they feel strong about. They're sure they're right. The message they claim usually involves a sin. Be very careful. God will not send you with any message to convict anyone of any sin until you are ready and totally reliable.
People will cling onto one particular sin they don't like. They may be right, it is a sin. People should know it's a sin, but Jesus is the only One authorized to deal with sins. We're not. Only Jesus knows how to reach that person. All we know how to do is stab in the dark. Those people cling onto their own message. They do not know God's voice and will not follow His process. They are neither messengers, prophets, or teachers.
Teachers are given the ability to see, learn details in a process, and teach them to others. A teacher has to know and respect the fact, people are at their own level. They must begin at their level and learn at their own speed. A teacher knows how to ask questions and pause. Then wait for an answer from God and instructions on how to proceed. Teachers will always respect a person's ability to develop their own pattern and technique to communicate with God. Everyone is a little different. Teachers can show people the process of connecting with God, so the individual and God can work out a comfortable format between themselves.
An evangelist is a little different than a teacher, because a teacher is normally a one on one experience, or small group basically on the same level. But an evangelist has to have his act together and lines of communication open to God. It is not an easy task to reach a group. Evangelists deal with group problems. Jesus was both a teacher and evangelist. Look at the problems Jesus had. If your an evangelist, you'll see the same problems.
I've been able to learn a few things about evangelist. One pastor told me, "if your an evangelist when you walk into a room full of people, or a church, and you can't see their needs in ten minutes, your in the wrong business. I can't argue with that.
Another pastor shared how he prepares for an meeting, or some people call it a sermon. God provides the topic, then expands on it, and expands, and expands. Having been a teacher, I know how important it is to prepare to answer any and every question on a subject. Students can come up with the strangest questions. Now place that in the spiritual arena where the enemy is working behind the scene using people to trip you up. God spends a great detail of time preparing and drilling an evangelist. Then the evangelist has to take all that material and narrow it down to a twenty minute presentation. Which spells more prayer. An evangelist is able to see bits and pieces of the personalities they will be dealing with, to a certain degree. Then they go through the process of preparing their presentation in prayer. As an evangelist prepares, he can see the reactions, knows when to pause, and knows there may be times he has to add or subtract a little during the presentation. He prays during the presentation as angels watch over him and the people he is speaking to.
I've recently been put in the position of an evangelist with a small group of eleven other men. It didn't take long to see their need. They brought up the subject and basically said, "this is what we need to learn." They know they can talk with God. They know He answers. They know it is important to listen, but their not sure how. It sounds like an easy task to accomplish. Just tell those men the details I've already written here. But it is different in a meeting made up of people from different walks of life. Even though they are basically all at the same spiritual level, the conversation and topic seems to break down when you bring up a subject people are not sure about. Human nature wants to interject, ask questions, and unknowingly, alter the subject. We saw that happen to Jesus, and we know the world is not going to treat us any different.
I'm not sure about being an evangelist. So far, I feel I'm up to the challenge, I had a week to pray before the first meeting and now a full week to pray before the second. I think I prefer teaching. One on one is a lot easier. But God is with me. At least I am learning.
That series of meetings with those men turned out rather well. It seems all they needed was some proof the Spirit does exist, and exactly how the Spirit communicates with us. Or at least one example for that group of men to see how the Spirit can and will lead their Bible Study group. After a few weeks a trend began to develop. It seems the those men studied on their own during the week, and they were studying the same unannounced subject from different angels. One week the Holy Spirit came up as a subject. Some of those men admitted, they didn't hear the Spirit, and didn't know how to listen. I asked them to present one scripture that explained an important detail about how God communicates with us. As we went around the table, each man looked up and read a text that meant something to them. I wrote down each one. These were all texts they studied that week. I wrote down each one. After going through all 12, I looked at the list and guess what. The scripture went through the Bible in perfect order from the beginning to the end of the Bible. Not the whole Bible, or all of its books, but in order they are found in scripture. What were the chances that would ever happen again. I looked at that list, took a moment, shared that information with them, and told them, "that is the Holy Spirit working in each of you. The chances of 12 men choosing 12 different text in order they are found in the Bible is about the same odds of winning the lottery." At that moment we could feel the presence of the Spirit in the room. The Spirit communicates in simple ways we often miss.
That's the way it seems to be with God. A few branches are cut off and others take their place. When you look back, you can see how over grown some of those branches were and how harmful they actually have been in your life. Those new branches are what brings new growth and fruit. It's a pretty simple process. The most important step is to listen to Jesus, the best teacher ever.