John 15:15-17 MKJV No longer do I call you servants, for the servant does not know what his master does. But I have called you friends, for all things that I have heard from My Father I have made known to you. (16) You have not chosen Me, but I have chosen you and ordained you that you should go and bring forth fruit, and that your fruit should remain; that whatever you shall ask of the Father in My name, He may give it to you. (17) These things I command you, that you love one another.
Looking back at how Jesus explained your sins in a personal manner, we have an example to examine. Not an example of how Jesus discusses sins, but how He has a way of explaining details. Jesus has a way of making people feel comfortable. "No longer do I call you servants, for the servant does not know what his master does."
The topic of slavery is usually not a happy one. In this case, the lesson followed Jesus' explanation of love and joy. Jesus is not teaching about slavery, but freedom in love. Jesus showed, we are not slaves only taking orders and speaking only when being spoken to. We have the right and obligation to approach Jesus in Heaven once we learn to free ourselves from this world. Jesus gives us the keys. Listen to the way God says Jesus is our link to God's voice. "Obey God's commandment and live in love and joy."
We're not only asked to produce fruit, but appointed. It is a position of great honor that places us in God's presence, in His love. When we learn to move from this world to an understanding of Heaven, God, and His love, He gives us what we need to produce fruit.
What is that process? How do we ask God for what we need? How do we know what we need? How do we pray? How do we listen to instructions? How do we know when prayers have been answered? How do we know when to plant seeds that to produce fruit? It all starts with learning to listen to God's voice. Jesus told us He will help. "All things that I have heard from My Father I have made known to you."
When you pray don't use the shotgun or machine gun methods, asking for one thing after another, or asking one question after another. Ask one question and wait for an answer. Pray to God throughout the day. Tell Him about the good and bad. Talk to Him out loud. That helps most people to hear when they listen. Study God's Word and pray about lessons in the Bible. Ask Jesus what He was thinking when you pray about a story from the Gospels. Take your time and hone your listening skills over time. Soon you'll feel God's love in ways you never expected.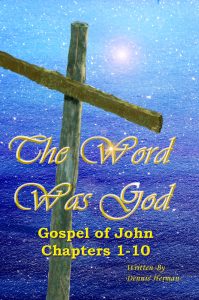 It didn't take long for the first few chapters of John's Gospel to reveal John recorded a series of detailed stories showing how Jesus reached out to individuals and groups of people. John's unique way of recording details showed how Jesus prepared for each meeting and how He developed a personal connection with the people He was able to reach. In chapter 3, Jesus used one method to reach Nicodemus, the religious teacher. In the next chapter, Jesus used an entirely different method to talk to the unnamed woman at a well in Samaria. The amazing thing about those two stories is, it took Nicodemus, the expert on religious law three years to catch on. The woman at the well took a few minutes to understand. She immediately went out and of all places, led thousands in Samaria to Jesus. Some times Jesus was successful, other times people walked away. As voluntary soldiers in Christ's army, we owe it to Him to study details John went to great lengths to record.